Haircloudco Scrunchies are $12 or 3 for $30
Discount given at checkout
Sizing of Scrunchies
Haircloudco scrunchies will fit a young child to an adult. If you are wanting a mini scrunchie or Mommy & Me set in any of the above fabric please email me and I can make one for you!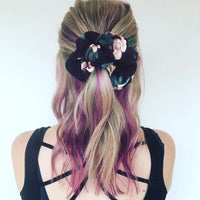 A little about Me
My scrunchie adventure started back in 2018 when I made a few scrunchies for my daughter Addison. My mom dropped off her sewing machine to me and well I haven't stopped making srunchies since.
I have been a hairdresser now for almost 17 years. Where has that time gone? With that being said, I wanted to design a scrunchie that would hold the hair in a high pony, half pony, top bun or any hairstyle while still being able to see the beautiful fabric, you the customer chose.
I have met so many amazing makers over this journey and I am so excited to see what 2020 has in store for Haircloudco.
Scrunchie Gang TEstimonials
These scrunchies are the best you can buy. Excellent quality and homemade with Love. Thanks for keeping the messy bun cute!

Denika
I started with one and now I have 8 Haircloudco scrunchies. I love the fabric choices and the abundance of it as well. The quality of how they are made, shows as well. I look forward to getting more.

Amie
Where you can find Haircloudco Scrunchies